What a magical European weekend! From EuroMillions' 800th draw in Helsinki to the Eurovision Song Contest grand final in Vienna, there was no shortage of reasons to celebrate the Continent.
EuroMillions' Memory Lane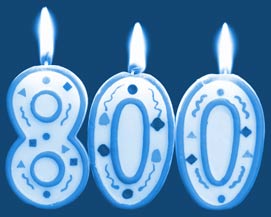 Last Friday, 22 May, was the 800th EuroMillions draw and it ended in a triple rollover! It was still a night of winners however: two fantastically lucky ticket holders matched five main numbers and one lucky star for a prize amount of nearly €724,000 each! The 801st draw, which will be held tonight, will now have a jackpot prize of €37 million. When a sitcom airs its 100th episode, it's traditionally in the form of a retrospective or clip show. Personally, clip shows can be rather irritating, but when it comes to our beloved EuroMillions, we have to do something special. We here at buy-euromillions.com thought about writing the top 800 things we love about EuroMillions, but after some rioting, we decided to knock it down to a Top 8.
Top 8 Things We Love About EuroMillions
1. It's pan-European, and knowing that lottery players from so many different cultures all love the same game as you makes it more fun!
2. The starting jackpot is €15 million, bigger than most other lotteries' highest jackpots
3. With 13 prize divisions, EuroMillions creates millions of winners every draw
4. With the EuroMillions UK Millionaire Maker raffle, two more millionaires are created each week through the National Lottery
5. Likewise EuroMillions France and My Million raffle gives away €1 million to a lucky ticket holder each draw — there are so may EuroMillions options!
6. The jackpot cap of €190 million is super high and has only been reached twice so far
7. The winners' stories, like The Weirs and Matt Myles, are incredibly intriguing and sometimes inspiring
8. SUPERDRAWS! Don't miss the chance to win a guaranteed €100 million on Friday, 5 June!
A Continent of Winners
The votes are in and unfortunately Australia's Guy Sebastian was not able to get enough 12 points to take the top spot at the Eurovision Song Contest. His song "Tonight Again" did make it to a respectable fifth place, so fair play to him. The winner this year was Sweden's Måns Zelmerlöw, so they will have the privilege of hosting the contest next year. Australia will probably not be back in the contest as this was a special thank you to loyal Australian ESC fans, however don't despair! A fellow Australian still has a chance to win a pan-European competition — and that winning Aussie could be you! So buy your EuroMillions tickets online today and you could have €37 million in your pocket tomorrow! You know EuroMillions draws have something exciting in store for you – ALWAYS!