This Christmas is going to be unforgettable for Steve Thomson and his family because their shopping budget just got a £105 million boost. How? They won the big jackpot in the EuroMillions lottery. Steve matched all the 5 main numbers and both Lucky Stars and now they are multi-millionaires.
Steve Thomson works in construction and winning the lottery came as a shock to him. A big shock, for that matter; he said that finding out about the winning felt like having a heart attack. "I was a shaking, gibbering wreck. I walked round the living room a few times, I went out to the van, I went back in, it was five minutes of madness then I decided to go and tell Lenka."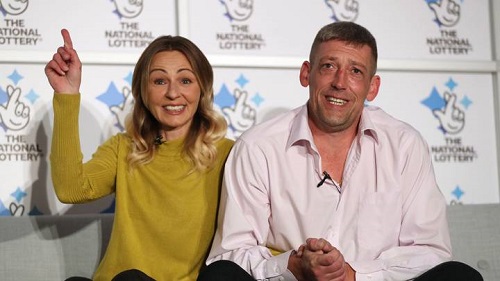 Lenka is Steve's wife. She is 41 years old and she works as a shop assistant. Her take on winning £105 million is this – "It's life-changing for the family. It's so emotional." The Thomsons are now looking to buy a new house for the entire family. "It's our dream come true where they [the children] can have their own room and space," said Lenka.
At the moment, they live in a three-bedroom apartment in Selsey, West Sussex, which they describe as being a "shoebox". They want to get a bigger house for the entire family so that their children don't have to share rooms anymore. House hunting around Christmas is not bad when you have £105 million to spend.
They quickly decided to go public and let the entire world know about their win so that they wouldn't have to hide the big news. "I am not going to flutter it away, at the end of the day I am still Steve, I do not want to change, we are just financially better off and so will a number of other people."
Now that they are EuroMillions winners, the Thomson's want to share their wealth with the entire village. "It's so much money, I am going to be generous. I live in a small village, I do not want to leave the village, whatever I can do for the village, I will," said Steve pledging to be "sensibly generous".
As for their children's Christmas wishes, they are very diverse. Their older son said that he wants his very own room, while the middle son went all in and asked for a Tesla. Their daughter had one major request, she wants a pink iPhone, which Steve said that she is definitely going to get. Merry Christmas to the Thomson's!
If you're wondering what's next for the EuroMillions winners, they said that they want to keep their lives as normal as possible. With £105 million to manage, they are going to have make quite a few changes to be able to accommodate that.
Steve said that he intends to keep his current job and continue working in construction. He has some jobs pending and he is set to see each and every one of them through. "Once I am over the shock, I will need to keep doing something. I am not the type just to sit still. My business partner knows that if he needs a hand I'll be there.", he said.
The Thomsons have a lot of amazing things to look forward to in their new lottery-winner lives. We're looking forward to finding out more about their new home and what they are going to build in their local community in Sesley. Congratulations to the happy winners!