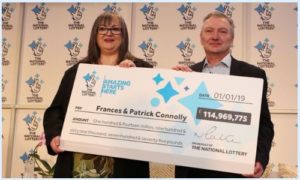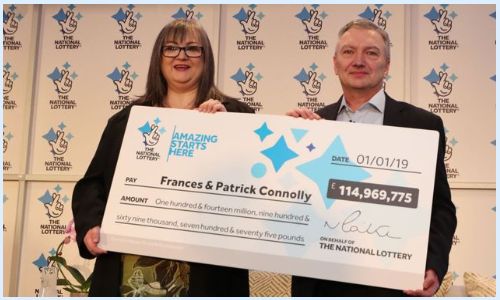 Frances and Patrick Connolly from Moira, Northern Ireland kicked off 2019 in a very big way. On January 1st, 2019, they found out they've won a whopping €129.6 million jackpot in the EuroMillions. The couple immediately came forward with their winning ticket to collect their jackpot and on January 4th, they attended the press EuroMillions conference at the Culloden Estate and Spa in Belfast.


Frances and Patrick Connolly's Big Lotto Win
There, they told the press about their lotto win experience and it is not what you would expect. While most people celebrate with champagne, the Connolly's said that they kept it low. "We don't really do excited", said Frances, "perhaps I raised my voice just a bit at the time when I found out – but we celebrated with a cup of tea and a hug."

Patrick said that he had bought his EuroMillions tickets online and on New Year's Day he checked the results. He looked up the winning numbers on a couple of websites and then, he went to his wife and asked her if she wanted to hear the good news. There they were holding a EuroMillions ticket with all the winning numbers on it.
With such big news to cope with, the Connolly's couldn't sleep at all that night. Early the next day, they contacted Camelot to see if it was all really true. It was confirmed, they held the single winning ticket for the €129.6 million jackpot.
Big Plans for their Big EuroMillions Jackpot
Dealing with a €129.6 million prize can be quite overwhelming, but Frances and Patrick Connolly seem to have a pretty clear idea of what they want to do with the money. Again, this is not quite what you would expect.
Most lottery winners spend their jackpots on expensive cars, luxury parties and cruises, and buy mansions worthy of their new status. But the Connolly's want to share their EuroMillions windfall with other people as well. In fact, they are working on a list of people who will get a share of their good fortune and they already have 50 names on it.
I've got a wonderful wife, a wonderful family and wonderful friends, so this is the icing on the cake. Money doesn't bring you happiness. We already had happiness and were very blessed in life.", said Patrick Connolly.
It's going to be so much fun giving it away. The pleasure for me is going to be seeing people's faces," said Frances Connolly.
Even after all the people on their list get a part of their EuroMillions fortune, the Connolly's are still going to be left with a lot of money. They intend to use their financial freedom to pursue their dreams. For Patrick Connolly, that is taking his academic future further. "I've wanted to do my Ph.D. in clinical psychology and I can afford to do it now.", said Patrick.
The First Person on the Connolly List Gets the Money
Only a few days after the press conference, the Connolly's started giving away part of their fortune. The first person on their list was Sharon Bordessa, Frances' sister. In 2017, she put her house for sale and moved in with their mother to take care of her. The plan was for Sharon to sell her house and buy her mother's.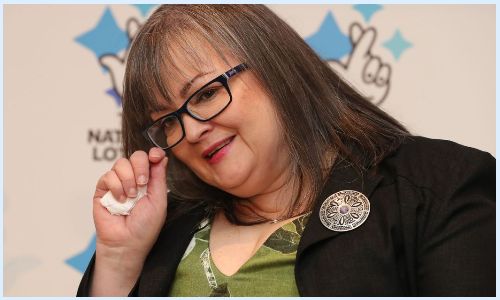 However, the money she would have gotten for her house turned out not to be enough to buy her mother's. With the process already in motion, the sale on her house was due to be finalized in the first weeks of 2019 and Sharon was about to lose both her house and her mother's.
Then, she got a phone call from Frances, who told her she has some good news. "Me and Paddy have won the Euromillions and you don't have to sell your house", she said and just like that, everything was fixed.