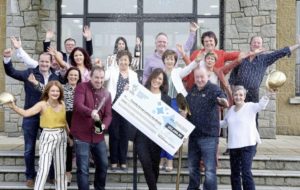 A syndicate of 18 co-workers from a demolition company in Newry, Northern Ireland, won £253,489.30 in the EuroMillions lottery on Friday, March 29th, 2019. Their office pool had been running for quite a bit, but in the end, it really paid off. Each of the syndicate members took home a share of £14,000.
Michelle O'Hare from Warrenpoint was the leader of the syndicate and she usually bought the syndicate's tickets for the EuroMillions draws on Fridays from her local shop. On March 29th, though, she attended a wedding and asked her colleague, Gareth Tinnelly to buy the tickets instead.
He got them at a shop near the company headquarters and kept them on his desk for the entire week after that. Then, Michelle remembered to check them and took them with her. She went to her local shop and gave them to the clerk to check, as she always does. This time, though, the clerk told her that one of the tickets was worth a large amount and that she needs to contact the National Lottery immediately.
Michelle checked the ticket on her phone app and found out that they had won a whopping £253,489.30. She couldn't believe her eyes, so she checked again and again. She ever asked some friends and family to check, just to make sure she was not seeing things. The answer was the same every time, they had actually won a quarter of a million pounds in the EuroMillions. Then, she called the National Lotter and got the final confirmation.
The first person in the syndicate she told about the win was Gareth and together, they came up with a plan to tell the others as well. They decided to do it on the following Monday and to tell them that they forgot to buy lottery tickets, but placed a bet in the Grand National instead. Michelle said that "For the first time in forever, I was looking forward to getting up early to go to work on a Monday."
Then, on that Monday morning, Michelle and Gareth gave their syndicate buddies envelopes and told them that there was a £500 prize for whoever had the name of the winning horse. The contents of the envelopes, though, held much better news.
"As everyone started opening their envelopes, they soon realised what had happened and it wasn't long before everyone was jumping around, hugging each other, cheering and crying for joy.  It was a brilliant moment that I'm sure none of us will ever forget."
The Tinnelly Group syndicate even got the afternoon off that day to go and celebrate their smashing win. They said that it was an amazing evening. So, what do you think? Are you curious about lottery syndicates? Play EuroMillions online and give it a chance! You could be the next big syndicate winner!