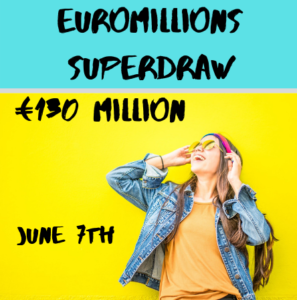 The EuroMillions is having a stellar week. On Tuesday, April 23rd, 2019, a lucky player from the UK won a huge jackpot worth £38 million. Then, Europe's biggest lottery made another huge announcement. On June 7th, they are hosting one of their fantastic Superdraws.
The Superdraw jackpot will be a guaranteed €130 million, which means that you simply cannot miss it! Tickets will be available soon, and until then, there is another jackpot in the game on Friday, April 26th worth €17 million.
UK Player Scoops EuroMillions Jackpot
After Ade Goodchild from Hereford won £71 million in the EuroMillions lottery last month, another Brit has won the jackpot this week. It looks like the UK is on a winning streak. He or she is the UK's 77th EuroMillions jackpot winner.
The lucky player is now expected to come forward and collect the jackpot. The winning numbers for the £38 million of April 23rd, 2019 were 18-23-27-42-44/02-07 and the British player was the only one to match them all.
Big EuroMillions Superdraw Coming Up
With an enormous jackpot of €130 million up for grabs, the Superdraw of June 7th is this summer's biggest lottery event! The EuroMillions first prize may still be won until then, but regardless of the previous amount, the pot will be €130 million for the Superdraw.
That is what makes Superdraws so exciting. The draw takes place just like a regular one, but the first prize is larger than life! Save the date on June 7th and make sure you have your EuroMillions tickets ready for this incredible event draw!
If you want to find out more about the event, you can read our page about the EuroMillions Superdraws. You can also read the amazing stories of the biggest Superdraw winners to see just how big it can get!