That's right! The EuroMillions lottery is kicking off the new decade with one of its exciting Superdraws. It is scheduled for February 7th, 2020 and the big jackpot will be a huge €130 million. All you need to do now is purchase your ticket for the big draw! You don't have to wait, you can buy your Superdraw ticket online today!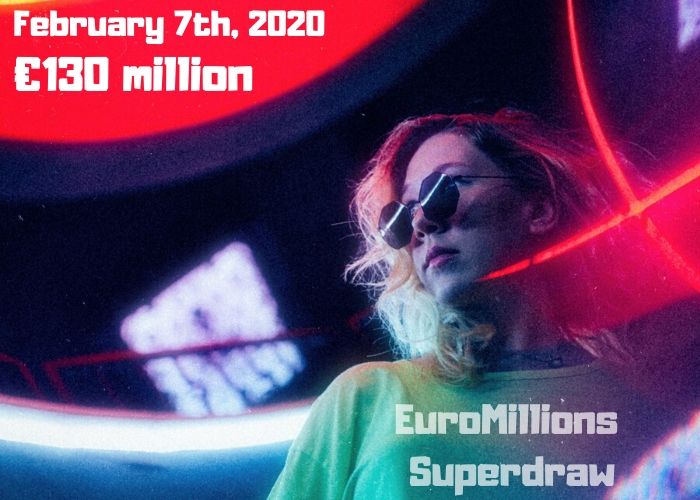 You simply cannot miss your chance to win the enormous €130 million jackpot! All you have to do is match the 5 main numbers from 1 to 50 and the 2 Lucky Stars from 1 to 12. The rules of the game are the same, and so are the odds. It's only the jackpot that gets so much bigger for the Superdraw!
Normally, the jackpot increases by a small amount from one draw to the other. But with the Superdraw, the jackpot is guaranteed to be €130 million regardless of the previous amount of the first prize. It can even jump from €17 million, which is the minimum jackpot in the game, directly to the announced €130 million.
EuroMillions Superdraw FAQ
We've gathered the most frequently asked questions about the EuroMillions Superdraw to give you all the details about this exciting event. Take a look!
When is the next EuroMillions Superdraw?
The next EuroMillions Superdraw was announced for February 7th, 2020. This will be the first Superdraw of the year, but also of the decade. Exciting, right?
What is the jackpot for the next Superdraw?
The jackpot for the upcoming Superdraw was announced at a whopping €130 million. Regardless of the previous jackpot, the first prize is guaranteed to be €130 million on February 7th, 2020.
How can you win the EuroMillions Superdraw jackpot?
You can win the Superdraw jackpot by matching all the EuroMillions numbers, just like for the other EuroMillions draws. Get all the right main numbers and Lucky Stars and you will be the big winner!
Can you buy Superdraw tickets online?
Yes, you certainly can! You can buy your EuroMillions Superdraw tickets on theLotter, the world's leading lottery messenger service, from anywhere in the world. It's never been easier to play the EuroMillions.
Can you buy Superdraw tickets in advance?
Yes, you can. You can purchase your EuroMillions Superdraw tickets online now and all the way up to February 7th. The cutoff time is a few hours before the draw. Your ticket is only a click away, so don't miss out!