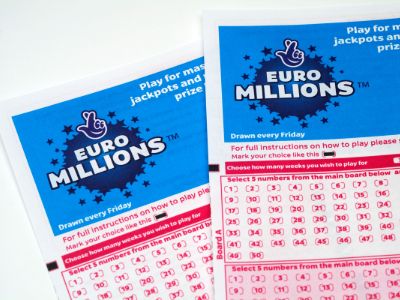 Update – The British winner of the €190 million/ £170 million jackpot has come forward to claim the prize less than 48 hours after the draw took place. According to the UK National Lottery, the payment proceedings are now in place, but the identity of the winner is still unknown. It remains to be seen if the UK winner will decide to go public or not.
---
The EuroMillions had a massively exciting draw on Tuesday, October 8th, 2019. It was the 4th consecutive draw with the maximum jackpot in play, which meant that the prize money would have to go. The €190 million prize was won by a lucky ticket-holder from the UK. At the moment, the jackpot has yet to be claimed, but everybody is dying to find out who scooped the largest EuroMillions prize of the year.
If the maximum jackpot hadn't been won on Tuesday, the €190 million would have gone to the second-prize winners. According to the rules, if nobody matches the 5 main numbers and the 2 Lucky Stars on a Must-Be-Won draw, the entire €190 million jackpot passes down to the following EuroMillion prize category that has a winner.
Luckily, after the long series of rollovers, the jackpot found its winner on the very last draw. The UK winner is now at the top of the biggest EuroMillions winners list. Here is a short recap of the top positions:
UK – Not Yet Announced – October 8th, 2019 – €190 million/ £170 million
Portugal – Anonymous – October 24th, 2014 – €190 million
Spain – Anonymous – October 6th, 2017 – €190 million
UK – The Bayfords – August 10th, 2012 – €190 million/ £148 million
UK – The Weirs – June 12th, 2011 – €185 million/ £161 million
The Sunday Times Rich List 2019 has placed the UK jackpot winner on the 703rd position. This makes the holder of the winning ticket richer than Sir Tom Jones, who is worth £165 million, or even Ed Sheeran, netting £160 million. That is an impressive status that mystery lottery champion gained overnight, or after the night of October 8th to be more precise.
The €190 million jackpot win marks the peak of the year for the EuroMillions lottery. 2019 started out strong when an Irish family syndicate won €175 million (£152 million) on February 19th and continued on a strong path with a £123 million pot in July.
After Tuesday's draw, the EuroMillions jackpot has been reset to the initial amount of €17 million, but by the end of the year, it is expected to reach quite a mouth-watering amount. Don't miss your chance to win the top prize and buy EuroMillions online today! Fingers crossed!