Our sweat glands and heart muscles received some well-deserved rest after the recent €132 million EuroMillion win. Since then, a €15 million jackpot was won right off the bat, and the current EuroMillions jackpot had its first rollover last Friday, moving up to an attractive, but still far from mindblowing, €21 million top prize. Mindblowing or not, this jackpot is ready for the take on Tuesday 9 February, and we urge you to get your EuroMillions tickets so you can take a swing at winning that jackpot! Are you game?
Go Wild with a EuroMillions Win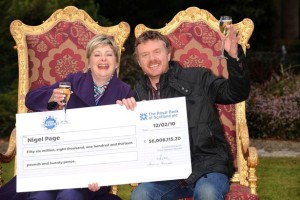 Financial independence really is something else, and we do hope that some of you will taste the sweet of having the ultimate freedom of living the life you have always dreamt of. Much like for example Nigel and Justine Page, a British couple that won £56 million in the EuroMillions in 2010, are doing. They decided to buy a new house, a step up from their previous one which they generously gave away to their cleaning lady Justine. Justine, however, got bored and went looking for a house to renovate, returning the house to its owners. They are now 'stuck' with a £4.5 million eco-estate while they already moved in to their new, £6 million mansion! Oh, what to do?
Well, here's a thought: maybe the gardner has a bit more appreciation for the carbon-neutral house that includes a 25-seat cinema and an indoor pool! Otherwise, we are more than willing to make it our Buy-EuroMillions.com HQ!
Good luck in tomorrow night's draw – we hope you hit the jackpot!