Almost Friday – you know what that means! We'll tell you again, just so you can't forget about it. And also because it is our duty, being your Australian source of info on all issues related to European lotteries, more specifically the EuroMillions lotto! And we take this job seriously! On that note, let us tell you about the jackpot in our favourite European lottery, the dearly beloved EuroMillions! It rolled over, and now offers a €24 million jackpot for next Friday's draw! Our advice would be to decide on your lucky EuroMillions numbers to play with and fill in your tickets – you have about a day left for that!
EuroMillions vs EuroJackpot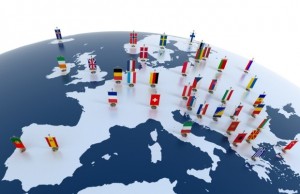 It's not a race by any means, but the EuroMillions lottery has been overshadowed by its fellow multinational European lotto, EuroJackpot. The EuroJackpot lottery is on the way to reach its maximum jackpot, quite possibly, already reaching jackpot heights never reached before! €75 million awaits the winner on Friday, May 1 – what better way to kick off May than by winning the biggest jackpot currently up for grabs in Europe! Naturally, you can also play for the EuroMillions jackpot, worth €24 million on Friday – definitely no slouch either!
Hit the European jackpots this Friday
We told you you can win €100 million, which is not far from the truth, but still not 100% correct. When you manage to get your hands on both the EuroJackpot and EuroMillions main prizes on Friday, you're actually pocketing €99 million. We're sure you'll forgive us for juggling that extra €1 million out of thin air – it just sounds a bit better this way. To be fair and make up this little lie, we'll cross our fingers extra tight for your jackpot win this Friday! May the lottery gods be on your side!