The top two EuroMillions prize divisions went unclaimed last Tuesday, when ticket holders failed to match five main numbers and one or two lucky stars. Four ticket holders managed to win an astounding €339,000 each by matching only the five main numbers. Out of those winners, none bought their tickets in the UK. Despite UK lottery players' lack of luck on Tuesday night, the UK is the top news story in many nations across the world. Tomorrow, UK citizens will hold a much-anticipated election, which will likely end with Ed Miliband replacing David Cameron as Prime Minister. Hold up now, you say. What does any of this have to do with EuroMillions? Sit back, relax, and get ready for a lottery civics lesson.
EuroMillions and the UK Election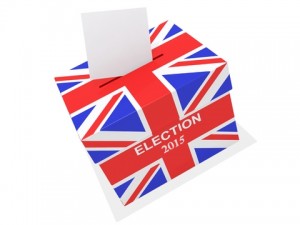 In 2011, Chris and Colin Weir of Ayrshire, Scotland won the £161 million EuroMillions jackpot. Since that time, they've established the Weir Charitable Trust which has donated money to many Scottish causes, particularly sports-related. But it hasn't been all fun and games for the Weir's winnings; they also were the biggest contributors (79% of funds) to the Yes Scotland campaign in 2014, which voted on Scottish independence from the United Kingdom. The campaign failed and Scotland remains an integral part of the UK, especially in this election.
While the campaign failed, the Weirs have not stopped using their EuroMillions fortune to fund their political causes in Scotland. Just last week Nicola Sturgeon, the First Minister of Scotland and Scottish National Party, began a helicopter tour across Scotland to persuade voters to go with SNP this election. Who were the main financiers of this helicopter tour? Yes, the Weirs. Chris and Colin are the biggest financial backers of the SNP. Are they spending their money wisely? Will the SNP have more success at getting power and concessions this election than the Yes Scotland campaign? The UK and the entire world will be watching and waiting tomorrow.
Do Lottery and Politics Go Together?
If you won the EuroMillions jackpot, would you give money to your favorite political causes? Is it better to invest your winnings in more stable things like horse racing (just kidding)? If you'd rather see money go to your bank account instead of career politicians, then play EuroMillions online and if you win this Wednesday's €40 million jackpot, let us know about all the much better, cooler ways you're going to do with the money.
* Buy-euromillions.com has no political affiliation or opinions; the only thing we're truly passionate about is EuroMillions, so in full disclosure, if EuroMillions were running for president of the World, we'd have to vote EuroMillions – wholeheartedly!