We had high hopes for a EuroMillions jackpot in the 9 digits, but our hopes have sadly been crushed. Well, a little bit anyway. On the other hand, we are very happy for the Spanish EuroMillions winner who took home the marvelous €85 million jackpot. Even if it means that, again, EuroMillions failed to reach the €100 million mark, this is a major lottery prize for sure – at the moment it was won only bested by three lottery jackpots in the whole world! EuroMillions may not have reached the much desired supersized jackpots recently, it is still a force to reckon with in the lottery world! In the next draw, which takes place in Paris tonight (around 20:30 local French time), you can play for a brand new €15 million jackpot! Get your EuroMillions tickets online, but get them FAST!
Not All Southern European EuroMillions Winners are Portuguese
You'd be inclined to think that Portuguese players are subscribed to win the EuroMillions jackpot, due to the amount of jackpot prizes won by players from that country, but it is actually beside the truth! Why? Because Spanish players win EuroMillions jackpots, too! Yes, and Brits as well. And you may be in for a big surprise when we tell you that it's actually the French lottery players that have won the most EuroMillions jackpot prizes – beating the Spaniards by a hair (78 to 77 jackpots won)! In short, our latest winner fits perfectly well in the bigger scheme of all things EuroMillions!
How Does it Feel to Sell a EuroMillions Ticket Worth €85 Million?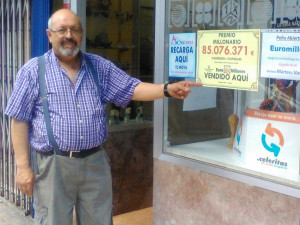 We can ask Ángel Jiménez, because he is the one who did just that. In his store in Coslada, part of the metroplitan area of Madrid, he sold the lucky Spanish EuroMillions winner the ticket with which he managed to get hold of the recent €85 million jackpot. Jiménez was over the moon, proud and he explains why: "It really is an immense joy, and it is actually still hard to believe. The store, which I took over from my parents, has sold more winning tickets in the past, but nothing came close to this incredible amount. It took my family more then 50 years to sell a ticket like this and it really is a tremendous satisfaction." Ángel, who's store can be found at number 1 in the Calle Pablo Picasso in Coslada, doesn't know who bought the winning ticket, but claims that it was most likely someone from the neighbourhood, or perhaps someone from the large Romanian community that lives in Coslada, many of which are customers in Jiménez' shop. Whoever it was, the lucky winner will forever be grateful for the fact that Ángel Jiménez sold him the winning ticket!