After much to-do about the 2015 EuroMillions Superdraw, the regular and always fascination EuroMillions is back and ready to keep getting bigger! The first post-Superdraw draw was yesterday, Tuesday, 10 March, with no jackpot winners coming out of the night's numbers. The current jackpot is now up to €26 million — will it fall or will we witness another epic rollover streak until it caps at €190 million?
Friday the 13th Draw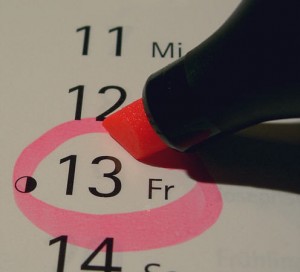 Some people may think that lottery players are more likely to be superstitious, but we here at buy-euromillions.com love breaking the mold. One of our favorite days is Friday the 13th. Maybe it's still superstitious but we like the idea of feeling extra lucky on a day that many people are more than iffy about. For example, did you know that an estimated 17-21 million Americans are affected by paraskevidekatriaphobia, or phobia of Friday the 13th! Never judge a book by its cover or a calendar date by its myths and horror movie franchises and all that stuff. And besides, fear of the unlucky 13 isn't universal: Italians believe the number 13 to be very lucky — in fact, they insist that Friday the 17th is the true unlucky date! So feel perfectly safe to buy a lottery ticket for the upcoming EuroMillions Friday 13th draw! After all, we've already survived one Friday the 13th Euromillions draw this year in February. Yes, 2015 has two Friday the 13th occurrences in a row — how lucky is that?
Luck Be A Lottery
The only way you're guaranteed to reap the bad luck of not winning any EuroMillions prizes this Friday the 13th is by not buying a EuroMillions ticket. If you're still harboring a small case of paraskevidekatriaphobia, just tell the day to "Stick with me baby, I'm the guy that you came in with" and maybe luck will be a lottery for you!