Last month, the EuroMillion jackpot reached a stunning €132 million amount before it was won and shared by two. Since then, jackpot in the popular euro lottery have been rather lame, to say it mildly. OK, even de default €15 million jackpot is wel worth anyone's time and effort – at least that is what we think. But those jackpots don't lift the EuroMillions lottery up a level from the other popular European lotteries. In fact, it makes EuroMillions less visible, and frankly also less interesting… Our hearts forever belong to this magnificent European lottery, so no matter what happens with the jackpot prizes at some point, if thery are high or low or somewhere in between, we will always promote our favorite lottery! There you go! Play EuroMillions online – because you can!
What EuroMillions needs is a EuroMillions Superdraw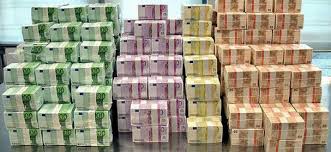 It has been a while since the last EuroMillions Superdraw took place. November 2015 marked that occasion. In the past several years, we were always able to offer you no less than three Superdraws a year. We have no reason to believe that things will drastically change in that approach, so we expect the first EuroMillions Superdraw of 2016 to be announced really soon. According to our calculations, it should happen in early March, but that may be a little wishful thinking. It will most definitely be in March, that part we're willing to bet on! Keep an eye on the news here, because we want you to be well-informed so you can buy the appropriate EuroMillions lottery tickets!
EuroMillions jackpots are supposed to turn heads!
And that is what will happen once the Superdraw will have an actual date. Why? Because a Superdraw jackpot begins at €100 million instead of €15 million. Yes, that is more than six times the default starting bid! Honestly, we are getting a little impatient and we can hardly wait for the announcement! Big jackpots are flying by in the American lotteries all the time, and EuroMillions has some kind of a moral obligation to represent the European lotteries and show the world that they can win fantastic main prizes in European lotteries just as well – especially in the EuroMillions!
UK player wins latest EuroMillions jackpot
The jackpot in de upcoming draw on Friday, February 26, is €15 million – the starting amount. A UK ticket holder won a £24.6 million EuroMillions jackpot, after two rollovers in the preceding draws. Camelot, de British EuroMillions organiser, informed us that the winning player matched the winning numbers 23, 25, 32, 37, 42 and Lucky Stars 01 and 11, which made them the only winner of Tuesday's draw. The second British winner this year! Care to join those two Brits? We promise you that you will not be judged on your nationality!