One very fortunate British EuroMillions ticket holder won AUD$11 million; ten more millionaires were created in the EuroMillions UK Millionaire Maker raffle that took place on Friday, January 30th.
The AUD$22 million EuroMillions jackpot draw last Friday (January 30), created two instant lotto millionaires. both a UK-based ticket holder and a Spanish player correctly guessed the winning EuroMillions numbers (9, 13, 15, 19, 24 and Lucky Stars 3 and 8) and will have to share EuroMillions' top prize equally and, without a doubt, will see their lives drastically transformed overnight!
January 30th marked the last Friday of the month and so it was a Mega Friday for the UK National Lottery EuroMillions & UK Millionaire Maker. Ten Brits won a massive AUD$2 million each in the famous Millionaire Maker raffle and all these winners will also go on a first-class trip around the world. Talk about luck!
Make sure to play Tuesday's EuroMillions draw online as the jackpot tally will once again hit the AUD$22 million mark. Get your tickets now, before Australia goes to sleep, so you don't miss out!
Frenchman Nearly Forgets to Collect AUD$106 Million Jackpot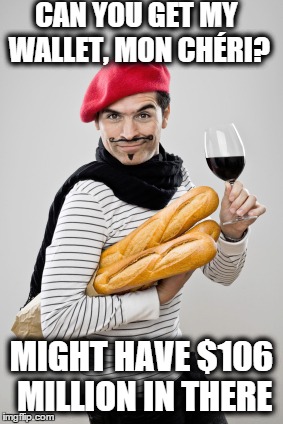 Some astonishing EuroMillions news coming out of France recently, as a man from the country's Northeast came forward to claim an astounding AUD$106 million EuroMillions jackpot! The ticket holder, who wants to remain anonymous, won his top prize on December 2nd and even though he plays the EuroMillions lottery regularly on the web, he hadn't quite come around to checking his numbers.
Early on in January, he realised he'd been carrying his ticket inside his wallet for a month and quickly checked it against the winning numbers. He must have had the shock of his life when he discovered he'd scooped up a colossal AUD$106 million! When he finally came forward to collect his prize, it was just 'avant la lettre', as French EuroMillions prizes need to be claimed within 60 days! He drolly told the Française des Jeux (the French national lottery organisation) lottery official that 'All's well that ends well', to which the lottery official gleefully responded that they'd been 'expecting him'.
Buy your EuroMillions lottery tickets online at buy-euromillions.com and never miss a win! We physically buy your lotto tickets in Europe, scan them to your account and notify you when you win big!