While the jackpot rolled over to €21 million, 11 new millionaires were created during last Friday's EuroMillions draw. How is that possible? Raffles!
UK Millionaire Maker – Mega Friday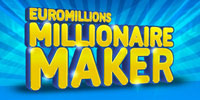 If you purchase a ticket in the UK, you're automatically entered into the UK Millionaire Maker raffle. A unique code is printed on your ticket and if it matches during the draw, then you're £1 million richer! The National Lottery guarantees one raffle winner every draw, so there are two new millionaires every week. In October 2014, the National Lottery established a special raffle event called Mega Friday. On the last Friday of each month instead of one guaranteed winner, there are 10 (and the first Mega Friday actually had 25 winners)! Along with the £1 million cash prize, winners also get a luxury item or holiday. Non-cash prizes have included luxury cars, all-inclusive luxury trips to Australia for two, and a South Africa safari excursion for four. If you buy EuroMillions UK tickets online and you're not a resident of the UK, then you will receive the cash value of the non-cash prize instead, determined by the lottery organization. Last Friday's Mega Friday saw the ten £1 million winners receiving an over-the-top posh London weekend for two, including a helicopter ride and a £5,000 designer shopping spree.
France My Million

Like the EuroMillions UK ticket, if you purchase a EuroMillions ticket in France, it will automatically come with a code for the My Million raffle. There is no additional purchase necessary. The French lottery operator, Française des Jeux, began the My Million raffle in February 2014. Every draw, there is one guaranteed €1 million winner. For special events, My Million raffle winners will increase to 10, just like a Mega Friday event without the non-cash prize. Last Friday was a normal My Million raffle draw, so one €1 million winner was chosen.
Raffles not only give you a chance to win another incredible cash prize other than the jackpot, but they're incredibly fun! And you most certainly do not have to be in the UK or France to participate. Just play online and let the raffle prizes come to you!