'Tis the season to be jolly – Fa la la la la, la la la la! Christmas is fast approaching and while lottery winners who squander their riches and live tawdry lives seem to get all the press, some more deserving EuroMillions winners have gotten into the spirit of holiday giving.
What do lottery winners and Santa Claus have in common?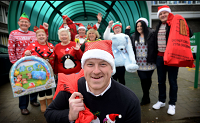 In Manchester, a group of charitable National Lottery winners spent the day with sick children at Wythenshawe Hospital. They came bearing lots of gifts, candies, and goodies — having a jolly good turn as St. Nick. The children and their parents were delighted by the generous visit from the lottery millionaires. The children adored the toys and whimsical advent calendars and the lottery winners loved spending time with the kids and making them smile. The lottery winners who volunteered for this event included Sean Lloyd, who won £1.8 million in the UK Lotto this year, and Sharon and Nigel Mather, who took home an extraordinary £12.4 million EuroMillions jackpot in June 2010. Nigel said that winning the lottery has changed the way they celebrate Christmas and that they are the grateful ones for being able to give back to the community: "To do things like this today and see the children's faces when you give them the presents – that's what it's all about."
EuroMillions Winners save Christmas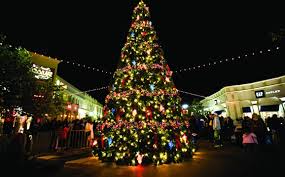 Winning the lottery isn't all about luxury cars and round-the-world holidays. Sometimes the greatest thing about winning millions overnight is being able to help people in need. Sue and Lee Mullen, who won a £4.8 million share of a £25 million EuroMillions jackpot in February 2011, love giving back to their local community. Ever since these EuroMillions winners won their grand prize, they've supported their fellow citizens of Grimsby in Lincolnshire whenever they could. They've helped the jobless, replaced a stolen trampoline for a local boy, and invested £50k in the Grimsby Town Football Club. Now they can add saving Christmas to the list! Great Coates, a tiny village near Grimsby, did not have enough money to get insurance for their Christmas tree lighting ceremony and was considering not getting a tree at all. Fortunately, Sue Mullen called the organisers and the tree ceremony will go on as planned and everyone in the village will have a happy and light-filled Christmas.
Do you want to be the next gracious EuroMillions winner? Giving back starts with buying a lottery ticket! Live in Australia or South Africa? That is perfectly OK – there is absolutely no need to be a EU citizen to be able to play — get your EuroMillions tickets online for this Tuesday's €51 million jackpot (£36 million for you UK players out there) today and let the jackpot come to you.