This Friday, 6 March, brings us all the chance to win €100 million instantly! While we here at buy-euromillions.com have obviously been filled with anticipation for the upcoming draw, we were amazed to discover that the entire planet is going wild with excitement over the 2015 EuroMillions Superdraw jackpot. 
Don't Weasel Your Way Out of Participating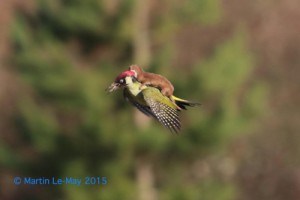 An amateur photographer in England took the photograph of a lifetime when he noticed a weasel flying on the back of a woodpecker. But why was the weasel getting a ride with this woodpecker? Some experts may claim that the weasel had bad intentions and was feeling a little peckish for the poor woodpecker, but that's just one theory. Perhaps the weasel was desperate to get his EuroMillions Superdraw ticket before Friday and he called upon nature's taxi to help him get to the store on time!
A Very Otter-y Lottery
What otterly adorable lottery fans! These otters are enthralled with chasing the butterfly because they're practising chasing their dreams of winning the EuroMillions Superdraw! After all, €100 million can surely buy a lot of pool toys and fish.
Maybe The Excitement Is Getting A Little Out of Hand
A cat should be a cat. And a duck should be a duck. But with a €100 million jackpot on the line, excessive EuroMillions excitement is causing up to be down, down to be up, and a cat to dress like a shark while riding a roomba and chasing a duck. This shark-cat is obviously trying to intimidate the duck into not buying a EuroMillions ticket because he wants to increase his odds of winning the superdraw. What a sneaky and unsportsmanlike behavior, but can we really expect any better from a shark-cat?
EuroMillions Superdraw Made Easy
Don't be like a woodpecker-riding weasel or an intimidating shark-cat. There is a simpler solution to participating in the 2015 EuroMillions Superdraw this Friday. Just click on the Play Now button on the right-hand side of your screen and you may get crowned king of the lottery jungle! It's the natural thing to do!