So many people dream about having fame and fortune. But how does one go about getting them? Well if fame is what you seek, then society is currently demanding that you own a cute cat with a grumpy face or overly hairy body… or barring any special physical characteristic, just dress them up as Hollywood film characters! At least that's what Albert Baby Cat's owner, Christine Look is hoping to achieve. With over 50k Instagram subscribers, she's getting close to that fame goal, but we are buy-euromillions.com were never one for the Fame Monster. We'll leave the fame behind for fortune any day, and EuroMillions is our fortune maker of choice!
Good Boy, EuroMillions. Now, Roll Over!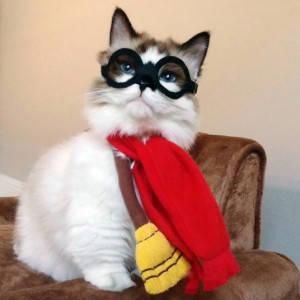 While there are many tricks getting performed by cool cats everywhere, EuroMillions is rolling over like a champ. For the fourth draw in a row, no tickets matched the winning numbers. So by the end last Friday's draw, the EuroMillions jackpot rose from €45 million to a spell-binding €52 million. Just like Albert Baby Cat as Harry Potter, the EuroMillions rollover streak is pure magic! It wasn't a total bummer of a draw night for EuroMillions ticket holders out there: along with the winners of the France My Millions and UK Millionaire Maker raffles, 65 EuroMillions ticket holders ended up winning secondary prizes worth over €5000 to nearly €271,000.
Euro-Meow-llions Dreams
Leave the fame game for the cats and join in the EuroMillions fun! Play EuroMillions online and you could end the rollover streak tomorrow, 24 March! €52 million: that sure is a lot of cat treats and movie costumes.