Last Friday's EuroMillions draw did not produce a jackpot winner and the estimated EuroMillions Jackpot for Tuesday, January 27th, now stands at a lofty AUD$30 million (€21 million)! The drawn lottery numbers for the EuroMillions Friday draw on January 23rd, were 6, 29, 30, 38 and 45. The Lucky Stars 1 and 8 completed the draw results in this first draw of a new, hopefully long rollover run!
Whilst no one raked in that much-desired top prize, one player from the UK did manage to match five main numbers and a Lucky Star and walked away with a walloping AUD$2 million. Seven more punters matched just the five main numbers and won AUD$95,000 each.
Raffles added to British & French EuroMillions variations
If you're well-informed in the world of international lotteries, you may be aware of the fact that there are a couple of variations of the EuroMillions lottery. There is the regular EuroMillions, the lottery we have mainly focused on here at Buy-EuroMillions.com, thus far at least. You do have the option to play in two other variations of Europe's #1 lottery, both of which offer a very nice added bonus! The British variation, the EuroMillions & UK Millionaire Maker, offers you the chance to win the UK Millionaire Maker raffle prize of £1 million – on top of any other prizes, including the jackpot prize! And the beauty is: you don't have to do anything extra for this! When you buy a ticket for the British EuroMillions lottery, you automatically play the UK Millionaire Maker raffle, because the raffle code is added to your ticket upon purchase. The winning UK Millionaire Maker raffle code for last Friday's draw was NKH 258 587.
The same principle basically applies to the EuroMillions & My Million Raffle, the French version of the EuroMillions lottery. With a ticket for this lottery, you're automatically playing for the €1 million My Million raffle prize! The winning My Million raffle code on Friday, January 23rd, was AU 602 5530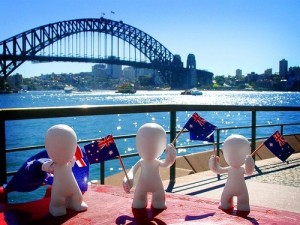 The French EuroMillions My Million game, run by operator Française des Jeux, saw one lucky player procure AUD$1.4 million for matching the winning raffle code, while another lucky lad in the UK bagged nearly AUD$1.9 million by matching the drawn UK Millionaire Maker raffle code.
We at buy-euromillions.com are no strangers to a bit of annual hand-wringing on Australia Day. Let's face it, as Australians we have already won life's lottery by virtue of our birth, but as we once again commemorate Arthur Phillip's First Fleet coming ashore at Port Jackson, we also feel a tiny financial windfall (such as winning the upcoming EuroMillions jackpot draw) could seriously lift us up even further. Play EuroMillions NOW and start the new year with a serious bang!