Have you ever wanted to be like James Bond as he drives his Aston Martin down the M1 motorway? It's Mega Friday Raffle time from the National Lottery of the UK! 10 people will receive the £1 million UK Millionaire Maker raffle cash prize PLUS a luxury dream car. Winners will have the chance to pick from 13 luxury vehicles including Maseratis, Porsches, and Aston Martins. The martini stirred, not shaken is not included.
Driving Toward the EuroMillions Jackpot Cap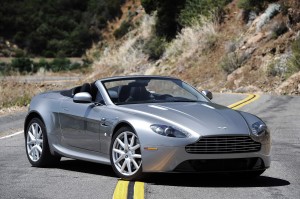 When the 24 March winning numbers — 10, 24, 26, 39, 40 with lucky stars 3 and 10 — were called out, no ticket holders answered back. For the fifth time in a row, the EuroMillions jackpot has rolled over. The current jackpot is now up to an exhilarating €64 million (£47 million for any UK readers out there). That amount of cash could fund a lot of luxury road trips. Will the jackpot rollover until we reach the €190 million cap or will a ticket finally take down the main prize?
A Brief History of the UK Mega Friday Raffle
The Mega Friday raffle of the UK National Lottery is a promotion that is held the final Friday of every month. One millionaire is created with each EuroMillions draw through the UK Millionaire Maker code. However on Mega Fridays things are a bit different. Multiple winning codes are drawn and the winners receive the £1 million cash prize along with a luxury non-cash prize. The first Mega Friday raffle premiered on 31 October 2014 with 25 winners becoming millionaires plus getting a two-week VIP all-inclusive vacation to Australia's own Makepeace Island. The National Lottery sure does have great taste to start off their raffle of luxurious prizes with a trip to our beautiful country! Up until now, all the luxury prizes have been vacations: round-the-world trips, South African safari, a trip to Canada to see the Aurora Borealis, and a choice of an all-inclusive trip to Brazil, Peru or Australia. The current Mega Friday Raffle is the first time the non-cash prize is a luxury item rather than a luxury experience.
NOTE: If you buy EuroMillions & UK Millionaire Maker online through buy-euromillions.com and you win the Mega Friday raffle, you'll receive the cash value (£150,000) of the dream car prize.