At buy-euromillions.com, we usually talk in euros, but when this lovely EuroMillions related story came into our hands we couldn't resist – so pounds/quid/GBP/£ it is!
The Cleanest Syndicate in Town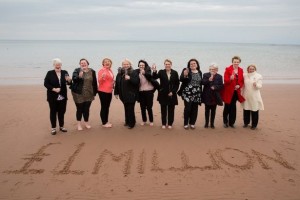 Next time your coworkers want you to go into a lottery syndicate with them, maybe you'll say yes. Eighteen cleaning ladies who work at St Matthew's Academy in Saltcoats, Ayrshire entered into a EuroMillions lottery syndicate and ended up winning big! One of the tickets matched the UK Millionaire Maker raffle code which is listed on EuroMillions tickets sold in the UK; the UK Millionaire Maker guarantees that one ticket holder every draw will win £1 million. This added bit of fun to a regular EuroMillions ticket has netted these darling ladies of the workforce £55,555 each — a definite boost to their yearly income! Since winning, all eighteen lovely ladies have returned to work, though they now have big plans for the money — all-inclusive trips to Spain, house repairs, and new electronics. How would you spend a nice, tidy sum like £55,555 from EuroMillions?
UK Millionaire Maker Explained
If you want to rock out like the ladies of Saltcoats, make sure the next EuroMillions ticket your purchase comes with a UK Millionaire Maker raffle code. No need to fly to London, you can buy EuroMillions & UK Millionaire Maker online! The current EuroMillions jackpot is an incredible £32 million (or €45 million) and as always, two winners each week win £1 million with the UK Millionaire Maker. Cheers!