The jackpot in one of Europe's favourite lotteries, the EuroJackpot, increased to €69 million amount after last Friday's rollover. EuroJackpot is the newest multi-national European lottery offering bigger prizes than most of the world's famous lotteries. Not just that, it also comes with much better odds! The current jackpot is on its way to the staggering record jackpot of €90 million (or 2.5 billion Czech Koruna), that was first reached in May of 2015, when a Czech citizen won it and became the first billionaire lottery winner in the Czech Republic. So far, that was the only time the maximum jackpot was won. Will we repeat this stunt this year?
Differences between EuroMillions & EuroJackpot?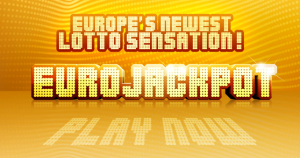 Both lotteries are Europe's biggest multi-country lottery draws, but in different ways. EuroJackpot has the most participating countries, seventeen, while EuroMillions offers the biggest jackpot, potentially as high as €190 million – which it already did on two occasions! Together, these top European lotteries cover 24 of the 53 European countries, overlapping only in one single lottery-loving state – Spain. Both lotteries require a 5 plus 2 match to win the jackpot. That means the player must match all five regular balls drawn plus both additional numbers drawn to win the jackpot. Although EuroMillions has a €190 million jackpot cap, the odds of winning the EuroJackpot's jackpot (which can reach €90 million) are almost twice as good!
Germans are Big Winners of the EuroJackpot
One ticket worth €76,766,891 (the second highest EuroJackpot top prize) was won in Germany in March of 2016. Another ticket for €49,685,851 was also won in Germany in January of 2016. Yet another ticket – worth €29,071,164 – was also won in Germany in April of 2016. So three of the most recent, biggest EuroJackpot winners of 2016 are Germans! What is in the water over there? In fact, German players have won almost half of all the jackpots over €10,000,000 since 2012. Congratulations to Germany! Or better yet: Herzlichen Glückwunsch!
Ready to Win?
The EuroJackpot lottery, and the same also goes for the EuroMillions, is designed to give more players a chance to win. Prizes may be smaller than those offered in the EuroMillions lotto, but the jackpots are won more frequently. On top of that, you are nearly twice as likely to win a prize playing EuroJackpot. So, you should definitely consider playing EuroJackpot! Europe's got it going on! The EuroMillions jackpot prize is up to €54 million after Tuesday's rollover. You can play to win the always coveted EuroMillions top prize on Friday, 22 July. But what you should really do, is play EuroJackpot online! Why? Because its €69 million top prize is the second biggest European jackpot today!