A lucky ticket holder in the UK won the £24.7 million EuroMillions jackpot last Friday, and we can only imagine how lavish their Valentine's Day celebrations will be! Oh man, you're saying! I completely forgot about Valentine's Day — I am so screwed. Not to worry, we've got your back, mate. For an easy and wonderful gift, treat your significant other like the millionaire of your heart and buy EuroMillions tickets today. Not for yourself — for your love! OK, maybe a ticket for yourself, too. Because why not 😉
Be the next beloved lottery couple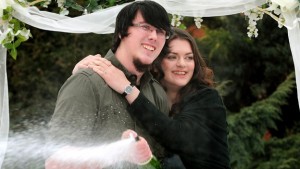 With high profile divorce cases like Gillian and Adrian Bayford or Dave and Angela Dawes, it would seem that a huge lottery win equals a rocky relationship. This, thankfully, isn't the reality when we look at the bigger picture. According to research conducted by the National Lottery, the UK lottery organization, only 2% of their winners divorced or separated after their big payouts.
In fact, becoming EuroMillionaires seems to strengthen some couples' devotion to one another. Take Matt Topham and Cassey Carrington for example. These childhood sweethearts were only 22 years old and not yet married when they won £45 million in a 2012 EuroMillions draw. Did their love dissipate at the first sign of financial success? Definitely not! These two lovebirds got married in ultimate luxury soon after their win and welcomed a son named Alfie in 2014. They seem to have a normal, loving family life — well normal, except for their £5 million mansion!
Another couple that has remained together despite a huge lottery windfall and massive press attention are Chris and Colin Weir. The Weirs took home £161 million in 2011, the largest European lottery prize ever. The jovial and charitable Scottish couple had been married for over three decades and raised two children prior to their win, so it's no surprise that the money didn't tear them apart. The Weirs bought a lovely mansion in Scotland and started The Weir Charitable Trust, which gives grants to community programmes and projects throughout Scotland. It's safe to say that this couple shares a lot of the same interests, including politics. They've donated millions to the Scottish National Party and the Yes Independence movement. (Pro tip: Politics is not romantic, no debates at Valentine's dinner tonight!)
How can I buy EuroMillions tickets if I don't live in Europe?
Don't despair, my friend! You can buy EuroMillions tickets online in a simple and secure manner by clicking on the Play Now button on the right side of this page. By using a lottery messenger service, you'll get access to the world's largest jackpots without leaving your home. A representative located in countries that sell EuroMillions will purchase official, physical tickets in person on your behalf. You'll then receive a scanned copy of the ticket in your account and await lottery victory! Save the London and Paris traveling for when you win the jackpot, so you can travel in ultimate style!