2015 has kicked off with plenty of drama. First and foremost for golfer Robert Allenby, who was kidnapped and severely beaten in Hawaii, when he came out of a Honolulu Wine Bar. Meanwhile, our Socceroos are preparing to teach the Chinese the same lesson they taught South Korea recently, and everyone wonders whether India's one-day cricket champ Virat Kohli will prove to be an unstoppable force for Australia's relatively inexperienced squad. Last, but by no means least, fourteen time Grand Slam winning legend Rafael Nadal insists he is too unfit to win the Austrialian Open, which is due to start on Monday in Melbourne. The Spanish star favours Djokovic, Federer or Andy Murray.
British Pub Lottery syndicate Wins £1 Million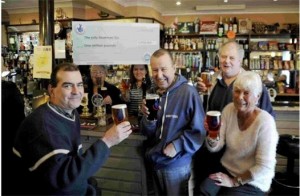 With all the sports drama developing at the moment, Europe's Euromillions lottery might seem like an oasis of tranquility. But don't let perception deceive you. The multinational European draw has set many hearts racing off late. Especially so in the appropriately named pub the Jolly Boatman in the English town of Newhaven. Pub landlady Charlotte Maynard and five of her punters saw their joint ticket awarded with a colossal prize of almost AUD$2 million (£1 million). With each participant in the pub syndicate having earned more than AUD$300K, it is fair to say that these six lucky Brits are over the moon.
Each EuroMillions Draw Open to Aussies
Buy-Euromillions.com offers Australians the chance to win a massive EuroMillions jackpot from the comfort of their 'far away from Europe' homes. Order your ticket online now and have one of our representatives buy your ticket, scan it and upload it to your secure account. If you win, you take home the full amount as we don't charge you any commission. Numbers are drawn in Paris twice a week (Wednesday and Saturday 08:00 AEDT), so hurry and you might celebrate Australia Day this year with a massive fresh cash injection, as the current Euromillions jackpot reaches a whopping $45 Million (€32,000,000)!