What a history-making weekend! In London, a new princess was born to the Duke and Duchess of Cambridge, fourth in line to the throne; Floyd Mayweather beat Manny Pacquiao in the richest boxing match in history; and EuroJackpot reached its jackpot cap of €90 million for the first time in its history!
EuroJackpot Goes the Distance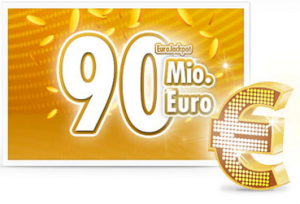 On Friday, all eyes were on EuroJackpot. For the past few weeks, we've seen record after record being broken and the jackpot edging ever closer to the €90 million cap. There was speculation everywhere as to whether it was EuroJackpot's time to shine and hit its biggest possible number. When the numbers were drawn on Friday night, the answer to that question was a resounding yes as the jackpot rolled over for the last time to the maximum €90 million! While no one won the grand prize, a millionaire came out of last weekend's draw by matching 5 main numbers and 1 additional numbers. This lucky winner took home nearly €2.5 million completely tax-free! EuroJackpot is Europe's youngest multinational lottery, founded in 2012, with 12 prize divisions; all cash prizes are tax-free meaning that if you're the winner of the next draw, you'll get €90 million in your bank account. Buy EuroJackpot tickets online for your chance to become a historic lottery winner this Friday night!
A royal baby, a fight with royalties, and a royally large jackpot
Let's look at the weekend by the numbers:
* Birth of the Royal Princess – The total net worth of the Windsors is estimated at $1 billion (AUD$1.27 billion). Roughly $41 million (AUD$52.2 million) of that is attributed to the new princess's parents, Prince William (Duke of Cambridge) and Kate Middleton (Catherine, Duchess of Cambridge). Her grandmother, the Queen, has over $500 million (AUD$637 million) to her name.
* Mayweather vs. Pacquiao – The most lucrative fight in boxing history. Tickets to see the fight in person sold for as much as $350,000 (AUD$445,800) and people were charged nearly $100 (AUD$127) to watch it on pay-per-view television. The fight's revenue totaled an estimated $400 million (AUD$509 million).
* The record-breaking EuroJackpot – EuroJackpot's jackpot cap of €90 million may not be as much as the net worth of the Windsors or the payout from the Mayweather fight, but if you play EuroJackpot today, you could end up with those record-breaking millions, tax-free and a reigning spot in lottery history!
Don't Forget EuroMillions!
EuroJackpot may be the star of the European lottery show this week, but don't take your eyes off EuroMillions for a second! After a double rollover, the jackpot is now up to a lovely €30 million. Buy your tickets and you could be a winner this Tuesday!